Nelson Mandela Visit
The Canadian People welcome Nelson Mandela at the Canadian Tribute to Human Rights
Nelson Mandela visited the Human Rights Monument on September 24 1998, welcomed by thousands of Canadians, the largest gathering at the Monument to date. President Mandela unveiled a commemorative plaque honouring John Peters Humphrey, in the presence of Dr. Margaret Kunstler Humphrey, the 91-year-old widow of John Peters Humphrey, and Geoffrey Pearson, vice-president of the United Nations Association in Canada. Humphrey was a Canadian jurist, who served for twenty years as the Director of the United Nations Division of Human Rights, and who drafted and championed the Universal Declaration of Human Rights.
President Mandela and his wife, Graça Machel, were welcomed by a Youth Honour Guard organized by the J'Nikira Dinquinesh Centre and by the Youth Drum from the Kitigan Zibi Anishnabeg School in Maniwaki. As they walked up through the Monument after passing the Honour Guard, they met Aboriginal Elders in the House of Canada. Here the Elders presented gifts: First Nations Elder William Commanda offered a symbolic eagle feather; Zippora Ypma offered an Inuit carving; and Métis Senator John Boucher offered a traditional ceinture fleche, which he tied around the President's waist and which President Mandela wore later during his address to the House of Commons.
Canadian anti-apartheid activists were also recognized during the ceremony. Regional Chairman Bob Chiarelli together with speakers from Oxfam Canada and Amnesty International brought greetings, Wolf Award recipients were recognized, the SIFA Choir of Ottawa, poet Cyril Dabydeen and composer Ian Tamblyn made contributions. M.C. Juanita Westmoreland-Traoré, Dean of Law at the University of Windsor, moderated the celebration taking place in the full splendour of Canadian autumn leaves. A miniature Inukshuk of unpolished serpentine stone was specially created for President Mandela by Cape Dorset artist Mark Pitseolak, and presented by Teena Hendelman, CTHR President.
From the program:
"Never wavering in his belief in human rights for the people of South Africa, Nelson Mandela pursued his "long walk to freedom" under agonizing and seemingly hopeless conditions.
Changing the oppressive power structure of his country without a bloody revolution makes him one of the most beloved persons in the world.
The Board of Directors of the Canadian Tribute to Human Rights is proud that President Nelson Mandela and Mrs. Graça Machel are with us today to unveil the plaque honouring John Peters Humphrey at this 50th Anniversary of the Universal Declaration of Human Rights."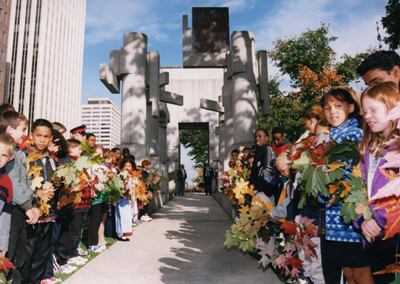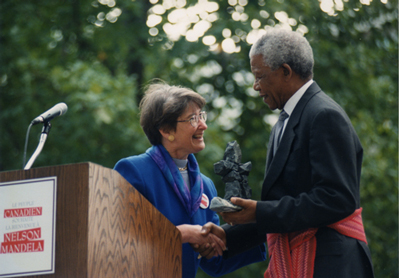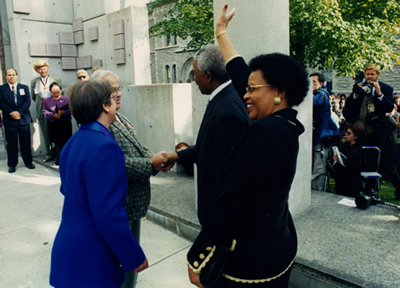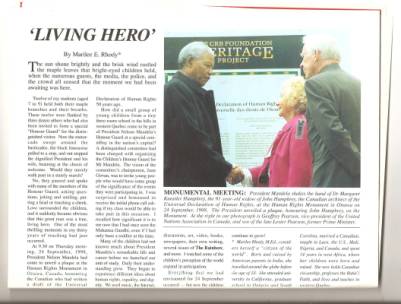 The importance of the Mandela visit at the Human Rights Monument is marked by the subsequent designation on July 17, 2014 of Nelson Mandela Square by Ottawa City Council under Mayor Jim Watson. Nelson Mandela Square includes the Human Rights Monument and the land surrounding it.